Today's article will solely be focusing on the wonderful gaming chair called MSI MAG CH120. Once you decide to invest in amplifying your gaming experience, purchasing a gamer chair such as MAG CH120 must definitely be on your to-do list. If gaming is one of your hobbies and you indulge yourself in games for a good portion of your day, you will probably notice neck and back pain creeping in on you. In order to minimize the toll excessive gaming takes on your physical, you better invest in one of these chairs. Of course, we can't tell you what to do, we are only here to advise.
Playing games is not only a hobby for some of us but a profession that we make a living out of. Hence, we recommend investing in a gaming chair along with other professional equipment needed for gaming such as a precise mouse, a rapid mechanical keyboard, a durable, a stereo headphones, a gaming monitor. We will be focusing on the gaming chair bit today. Hang on tight and hopefully we will help you get rid of that neck and back pain of yours at the end of this article.
MAG CH120 – Gamer Chair Review
If you have done your research already, then you must have realized how colorful and Sci-Fi type some of these gaming chair collections can get. From neon shiny purples to greens, there are a whole bunch of options if you want to go over the top with it. However, we know that there is a big adult gamer population out there, who are simple not interested in all the funk. And these consumers pretty much prefer something more serious yet still fun, something to go along with their laid-back office look, perhaps.
The sleek pre-dominantly leather design has overall equal distribution of black and red colors. It has that natural shine of leather and reflects the light well. This purchase is perfect for consumers who enjoy the combination of simplicity and fun element of gaming. The unpacking and construction is easy as pie. You get to feel the solidity of the PVC material as soon as you lay hands on it. You get a sense that the material is not easy to tear. Therefore, it is indeed a long term investment for a gamer like yourself. On that note, don't you forget that black color is known to show dust easily, so we advise you to beware of that.
MAG CH120 Specifications
Let's get into the specifications of highly recommended MAG CH120 – gaming chair.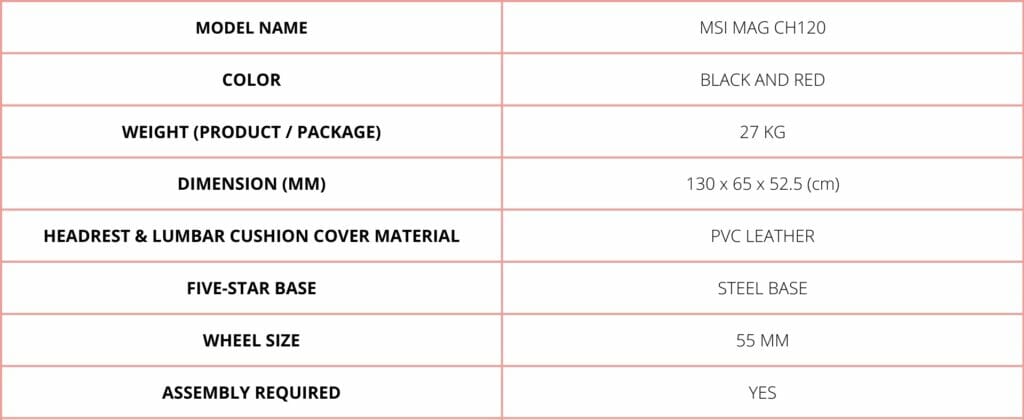 MAG CH120 – Gaming Chair Price
It is safe to safe that MAG CH120 is on the affordable side of the MSI gaming chairs spectrum. If your budget is less than 500USD, then this might be the chair for you. We can't share the exact price information as the price for technological purchases is absolutely region-specific. But, what we can tell you is that it is worth its price, and it's pretty affordable compared to models like MAG CH120 I and MAG CH120 X.
The product is worth it if you are just starting out your gaming profession. However, there are of course better purchases out there if you are a professional. Budget and quality wise, we'd say it is worth it. We suggest you do your own research before you make a purchase. And, also, visit some Tech shops that are in your area to get a better feel of the chair before you purchase it. That's all for today and stay tuned for more.