MAG CH130 X is our guest today. Even though we spend much of our time sitting at the computer as gamers, we occasionally may suffer from backache, back pain, and neck pain because of the chair which we sit on. To prevent these aches, we should use gaming chair. Nevertheless, all of gaming chairs are not same. They have some different features. Some of them can be tilted back, but others cannot be done so. Some of them can be lowered or raised while some of them cannot offer us them. While some producers use plastic or iron, some use steel which is more durable. Of course, there are a lot of gaming chair allowing us to do all of them. However, MSI could be the best brand producing them. All the things we have mentioned can be carried out on MSI's gaming chairs. One of the chairs of MSI is MAG CH130 X. We will look at its details and its price in this article.
MAG CH130 X Review
MSI MAG CH130 X has elegant design. It is black which gives it carbon appearance. While it is produced, MAG CH130 X is inspired by racing car sits as they are very comfortable and non-perishable. That it is like a racing car sit also make us feel sportive. Its design in concordance with our body shape. It offers us to stay still and feel comfortable with its additions. These additions are ergonomic headrests and lumber cushions. Owing to them, we can lean back with peace in mind as they prevent backache and neck pain. As we sit on something, we need to feel safe. MAG CH130 X can resist to up to 150 kilograms as its frame is consisted of steel which cannot be broken or damaged easily. Why MSI uses steel is to hinder unwished accidents. When we spent much of our time, we may want to have a nap without leaving the table.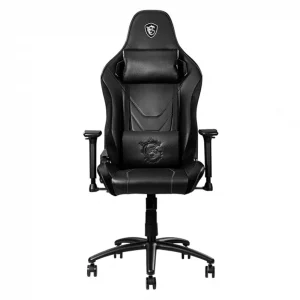 Accordingly, MAG CH130 X offers us 165-degree reliable backrest. Thanks to this feature, we can have a nap. In the meantime, most of us like doing it. We do not want to see our gaming chair as shabby. Therefore, MSI uses durable texture. It is draped via velvet, which is soft and durable. In the meanwhile, we do not want to sweat while sitting on our chairs. Some brands use sweaty materials one their products. As MSI uses velvet, it does not make us sweat. We may want to control its height according to our table. MSI uses on it class 4 gas lift pistol so that we can adjust it as we wish.
MAG CH130 X Price
We always wish to pay low and get high quality products. Here we have MAG CH130 X. We cannot inform you about its exact price because it is sold in different countries with different currency. Nonetheless, we absolutely know that it is worth its price like every MSI's products from MSI graphic cards to MSI mouses. We must have heard about the fact that many people who play video games use MSI gaming equipment. If you ask about them gamer who use them, they will probably say that they are very satisfied to have them thanks to the fact that they are steady and quality.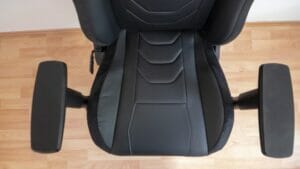 We spend a lot of time on the computers. However, we could suffer agonies because of what we sit on. To prevent the aches, we have gaming chairs. We have gaming chairs, but all of them are not same as we have cited. For example, some have aspects to be tilted back, others do not have. While some can be ascended or lowered, others cannot be. Nevertheless, MSI offers us MAG CH130 X which we can do all of them. In this article, we mention MAG CH130 X's aspects and its prize. We suggest that if you want to buy a gaming chair, you should consider the details given here of MAG CH130 X.