We sit at the table to play games or watch movies and series for hours, and we have fun. However, we sometimes may feel pain which is caused by what we sit on. The pain could be neck pain, backache or brachialga. If we want to get rid of them, we must care what we sit on. If you think about how to avoid them, Gaming chairs will absolutely help us. Of course, there are lots of them on the market, but they are not same. For instance, while some of them cannot be tilted back, great gaming chairs can be used barwise. Gaming chairs which are loved more are produced with mobile armrest, but others are produced without it. In the meantime, their materials are also important. The most loved ones are made by steel which is more durable than iron or plastic. In this article, we will glance at MAG CH120 1 produced by MSI, which may be the leader of the market, with 180 reliable backrest and 4D adjustable armrest and more, by using steel on its and mention its price.
MAG CH120 I Review
MAG CH120 I is a great gaming chair which has satisfying features. The chair is made by MSI that is good at making game chairs as in its other products. It offers us many comfortableness. Its back rest could be tilted back. It is great for us if we use computers for hours. For example, we are playing a video game, but we can feel backache. All we need is to tilt its back so that we can lie down to cease the pain caused by our position. In the meanwhile, we sometimes may want to have a nap when we play games. Thanks to its mobile backrest, we can have a nip by staying in front of computer and, this activity is loved by many of us.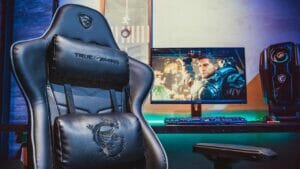 It has also 4D adjustable armrest. As we play games, we must feel relax. Its armrests can be ascended or lowered, and the armrests can be moved left or right. We can control them according to our table height. For example, if the armrests of chair are short, we will have to keep our arms up. So, we may have arm pain. To stop this, we have 4D adjustable armrests. It has also class 4 gas lift piston. We can control height of the chair as we wish thanks to it like its armrests. When we buy MAG CH120 I, it is delivered with ergonomic headrest and lumber cushion. As it is mentioned above, we do not want pain.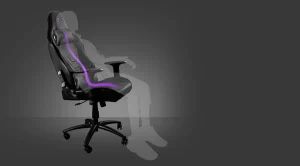 Accordingly, these 2 additions will help us. When we sit in front of table for hours, we tend to feel neck pain. However, since we can keep our neck still and supported, it will not make us feel neck pain. It is valid for its lumber cushion too like its ability to be tilted back. As we use our chairs for hours, its tissue may be torn. However, MSI uses PVC materials to prevent it. So, MAG CH120 I is longaeval for lacerations. We do not wish to drop or have accidents because of the chair we sit on. So, MAG CH120 I's frame is produced via steel which is a durable stuff. Accordingly, it will block dropping and stop undesirable accidents.
MAG CH120 I Price
We are inclined to find great things with low-cost. We sometimes may feel disappointed with the products we buy. But it will not happen for MAG CH120 I when you consider what you have read just before. We cannot say you an exact price for that as it can change, and it is sold in different countries with different currency. However, we know that the product will meet your needs. You have been informed about MAG CH120 I now. We suggest you research its price and buy it as it is worth its price.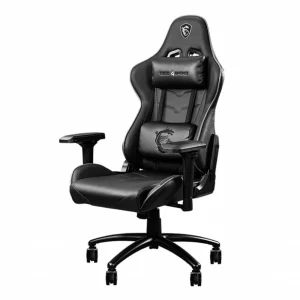 We have looked at MAG CH120 I, and we know that it has many great aspects. To illustrate, it is produced with durable stuffs so that we cannot have unwished accidents and we can adjust its height as we wish and adjust its armrests. So, we can have great times with MAG CH120 I.