Euro Truck Simulator 2 is the best simulation game in which you can drive a truck. This game allows you to drive in European countries such as Holland, Germany, France, Italy, Belgium, the United Kingdom, Switzerland, Slovakia, Polland, Austria and Luxembourg. If you think that these countries are not enough for you, you can get DLCs to drive in Scandinavia or to drive in the east. There is also some DLCs which expand the cities of countries such as Vive la France, Turkey and Italia. Moreover, you can download some mods to expand the map as you wish. The game has official truck brands, and it is sponsored by them.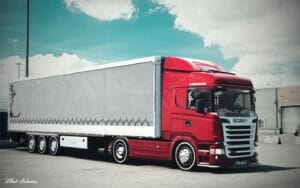 The trucks in the game are DAF, IVECO, MAN, Mercedes-Benz, Renault, SCANIA, Volvo trucks. There are also alternatives with the trucks as in maps since many players create mods in this game. You may want to play with the truck you have seen in real life, so you can get them easily via Steam Workshop or by googling the mod of the truck.  The game also allows you to play the game online. You can download the online mod. Then you can drive with your friends. The online feature was officially added last year. With version 1.42, players can now use mods in servers.
When did Euro Truck Simulator 2 debut?
The first game called just Euro Truck Simulator was released on 29 August 2008 by SCS Software. Many simulation players loved the game and played for a long time. After 4 years of launching the first game, SCS Software released Euro Truck Simulator 2 on 19 October 2012. Since then, ETS 2 has received 43 main updates and still continues to receive updates.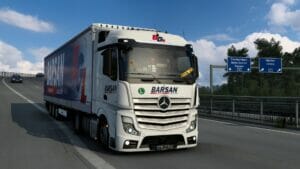 Euro Truck Simulator 2 Story
Normally, simulation games have no story. In this kind of games, gamers can create their own story. Euro Truck Simulator is one of them which has no specific story. When you start playing Euro Truck Simulator 2, you have nothing. Your main purpose is to establish a new company and hire people to drive so that you can earn money and your new company could progress. Although there is no story in the game, there are quite a few features on realism. There are multiple examples of realism, such as time-worn trucks, traffic tickets, traffic incidents, and more. One of the most beautiful features of Euro Truck Simulator 2 is that it presents the entire European map.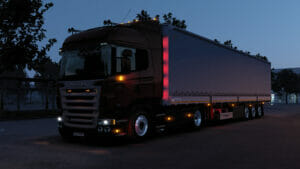 How many GB is Euro Truck Simulator 2?
Many simulation games require a lot of free space on your computer. However, you can feel lucky with Euro Truck Simulator 2 due to the fact that it just demands about 16 GB free space. If you want to install DLC and MOD, you need more space. DLCs are free. You only need to allocate this much space for the size of the ETS 2.
How to buy Euro Truck Simulator 2?
Nearly every game is sold by technology markets, Steam and Epic Games. So, the game could be bought via Steam, Epic Games, or the technology markets. All of them are available for you. You can both buy the game and buy DLC through this technology and game markets. You can download and install the MOD for Euro Truck Simulator 2 on Steam. These MODs are controlled by Euro Truck Simulator 2 authorities and they are reliable.
Some bugs of Euro Truck Simulator 2
As some developers miss out some details about their games, there could be bugs. As in every game, there some bugs on Euro Truck Simulator 2. To illustrate, your truck sometimes can fly if you hit somewhere suddenly. Your truck may fall into the road you drive. Your truck sometimes may not move because of some invisible lines. You report these bugs and the makers of Euro Truck Simulator 2 will fix them.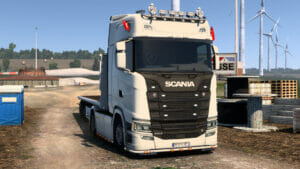 Summary of Euro Truck Simulator 2
Euro Truck Simulator 2 which has official truck brands is a game in which you can transport in European Countries. You can play this game for hours, days, weeks. You can modify your trucks and make skins for them. So you can play a truck of your own in your own world. By playing with your friends, you can show your own truck to your friends and have a more realistic simulation experience. Definitely try Euro Truck Simulator 2.